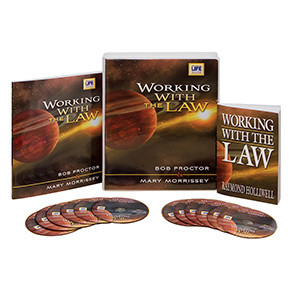 Product Description
Expanding upon Raymond Holliwell's ground-breaking book, Working With the Law, internationally renowned author and speaker Mary Morrissey and master LifeSuccess coach Bob Proctor (featured teacher from the hit movie, "The Secret") have joined forces to deliver to you the 11 Universal Laws of Success. There are no shortcuts to success, but quantum leaps can be experienced and enjoyed through the transference of information and experience. That's what Mary Morrissey and Bob Proctor have done in Working With The Law and you are the beneficiary. This 90-day group coaching program reveals the 11 forgotten Universal Laws that take you beyond the Law of Attraction and into a life you truly desire.
Here are just some of the many things you will learn:
Why it is important for you to identify and draw a distinct line between the two types of human thought if you want this Law to work for you
The age old advice you only think you understand. Ignore this real lesson, and it will forever hold you back
The Nelson Mandela secret that ended apartheid, and how you can apply the same extraordinary principle to effortlessly break through your limitations
You may feel that your prayers are falling on deaf ears. But did you know they could be answered already?
The complete Working With the Law Learning System Includes:
The complete audio program on 12 CDs
Your personal "Working with the Law" comprehensive guidebook
The original book by Raymond Holliwell
Weekly hour long group tele-classes
Teaching, facilitating and laser coaching during the program
One 30 minute individual coaching session to help calibrate what you are learning
Order Now!
Price: $1497