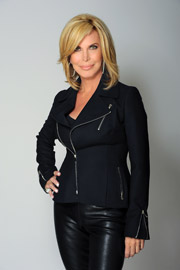 Michelle King Robson
Founder of EmpowHER and MKR Media LLC
Michelle King Robson (pronounced ROBE-SON) got sick after an unnecessary hysterectomy that led her to create EmpowHER. As founder of the company, Michelle's mission is to make sure women are educated, have support and are empowered to lead healthy and happy lives. Since establishing EmpowHER.com, Michelle has become a nationally-recognized women's health and wellness advocate.
In EmpowHER, Michelle has built a company that inspires and empowers women to live healthier and happy lives by connecting them with a community of experts, doctors and people like them who provide reliable health and wellness information, inspiring stories and answers to real health questions with a 24-hour promised response time.
Michelle's goal is to ensure that all people have access to leading health information and spends her time speaking before women's groups, health care organizations, political leaders, regulatory bodies and the media about women's health and the importance of women advocating for themselves and their loved ones.
Michelle currently serves as an Advisory Council member for the Mayo Clinic in Scottsdale, Arizona, on the California Women's Conference Advisory Board and is also finishing writing a book around her experience and passion for helping women improve and change their lives.
Highlighted Media
Helped develop and currently co-hosts HER Radio, an online radio show airing on RadioMD.com every Thursday at 2pm ET
Panelist at the 2014 S.H.E. Summit during the session "Women In Business: How to Go From Start to Scale"
Keynote speaker at the 2014 California Women's Conference on May 20th with other powerful women CEOs including Arianna Huffington (Huffington Post), Michelle Patterson (Women Network), Elisa Page (BlogHer), Amanda Steinberg (DailyWorth) and moderated by Jane Pauley
Interview with Deepak Chopra for his new series One World on NEWSWIREFM.COM
Spokesperson for multiple TV and radio satellite media tours
Spurred community outcry and ground-breaking FDA reversal, finally approving non-hormonal menopause treatments
TEDxLowerEastSide Speaker
Ohio State University Building Healthy Academic Communities National Summit Highlighted Speaker
My Menopause Magazine cover and feature
Fox News TV Show 'Health Talk' segments
Emmy Award-winning TV Show "The Doctors"
Sirius XM Radio Show "Broadminded"
Michelle has received numerous awards and citations, including the 2014 Arizona Foundation for Women's Marilyn R. Seymann Award, 2013 Ellis Island Medal of Honor, being named one of Arizona Business Magazine's 50 Most Influential Women in 2012, "Chairman of the Year" from the American Business Awards and named one of the top ten "Most Fearless Women Online and in Social Media."
Michelle continues to fulfill her mission every day to ensure everyone has options and choices around their health. She believes we all deserve answers, validation & support around our health and by bringing trusted resources and women together, we can make a difference in the health and lives of all.
Booking and Availability: Learn more about the Women's Health Advocate, Author, Speaker & TV Personality
Tags: Diet & Nutrition, Dreams, EmpowHER, EmpowHER Online Resources, Health, Improving Health, Michelle KIng Robson, Relationship & Family, sherry gideons, Wellness, Whole Health Transformation, Whole Life Living, Women's Empowerment, Women's Health, Women's Health & Wellness, Women's Health Topics