Learn To Think Thin & Win | MedFit Dr. Angela Tran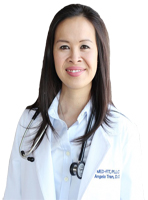 Dr Angela Tran Medical Weight Loss Doctor || Healthy and Non Surgical Weight Loss That Stays Off and sought after authority on The Keys To Losing Weight and Keeping It Off.  Dr Angela Tran joins us on Whole Life Living Show Monday April 11, 2016 1:00 pm PST, 1:00 pm MST, 2:00 pm, CST, 3:00 pm EST
Key Topics we will be discussing with Dr Tran:
The biggest mistakes made by dieters
The secrets to rapid weight loss
The mental game of weight loss & what it means to "Think Thin"
How to keep weight off long term and what it takes to be a succesful loser
Why diets fail
Dr. Angela Tran is board certified in Internal Medicine and Obesity Medicine. After working as a primary care physician for five years, she realized that she was prescribing numerous medications for treatment of conditions where ultimately the root caise was obesity. She left Internal Medicine to open Med-Fit Medical Weightloss to focus on weight management. Dr. Angela Tran now directs a medically monitored program that provides a medically complete weight management solution to long-term success.
You can find out more about Dr. Angela Tran, D.O @ DrTran@Denverweightloss.com and at http://DenverWeightlossClinic.com
Office: 303- 321-0023
Cell: 720-220-3452
Click on the Whole Life Living Show word below to be taken to Blab to Subscribe for weekly shows:
Tags: Diet, Dr. Angela Tran, Learn To Think Thin & Win, Losing Weight, Med-Fit, Med-Fit Medical Weightloss, Obesity, Think Thin, Weightloss