Felicia Streeter, the Money Maverick, is a trainer, author, speaker, and leading expert in profit and growth strategies. She's about putting the fun back in your business by showing you how to achieve what you desire most: more time, freedom, and money. She gives your numbers meaning and shows you how to transform them into more profits and growth, so that you have outrageous success and live a " Richer Life."
Felicia is known for her powerful, energetic, engaging, and authentic speaker style and her ability to make everyone in the audience feel as she's speaking directly to them. She consistently delivers practical, compelling, and inspiring messages that engage, uplift, and empower everyone to dream bigger, play a bigger game, and make their business thrive. Felicia leads bookkeeping, profit and growth training programs and travels the world speaking and attending conferences.
Felicia has a MBA in Entrepreneurship and Strategic Management, and degrees in Management and Accounting all from Davenport University. Her experience includes 15+ years entrepreneurship and 10 years as a military spouse traveling in the US and abroad.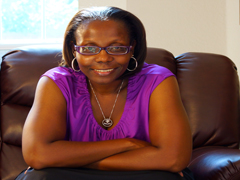 Social Media:
Dream4self International and Felicia Streeter © 2012
512 N. Hampton Rd #132 * DeSoto, Texas 75115
214-997-1330 * www.FeliciaStreeter.com * info@FeliciaStreeter.com
Tags: Author Felicia Streeter, Dear Boss I quit: How to go from your day job to Full-Time Entrepreneurship, Felicia Streeter, Live a Richer Life, Speaker Felicia Streeter, Speaker: Sherry Gideons, The Money Maverick