Michelle Humphrey
Michelle is wife, mother, entrepreneur, speaker, author, and the founder of Familypreneuring. She is known as the Familypreneuring expert. Familypreneuring is all about empowering families to work, play, and happily stay together. The proven systems in Familypreneuring guide families to create a foundation of success that helps shape their children's lives and lasts a lifetime.
Michelle has dedicated more than 20 years of her life to researching and being a master practitioner of the mind and energy with the purpose of raising consciousness. Her passion for continued growth has led her to the newest, proven, and most powerful mind training methods of clearing through inner conflicts. She is passionate to be able to coach and train an individual to new heights of personal and business success.
Michelle co-stared in the personal development film entitled Pass It On, as a featured expert in the movie along with other industry experts such as Mark Victor Hansen, Brian Tracy, The Secrets' Rev. Michael Beckwith, John Assaraf, and Denis Waitley, along with other dynamic, inspirational leaders that gathered to mentor the masses. Michelle is a contributing author in the series Wake Up and Live the Life You Love: On a Enlightened Path, and Finding Your Life's Passion. She co-authored these works with Wayne Dyer, Deepak Chopra, Anthony Robbins, don Miguel Ruiz, and others.
Michelle loves spending quality time with her husband, son, and dog Emjay. Living aligned to her top values always has her coming back to nature and being one with life. She owns a float tank and loves floating and meditating. Being born to the water sign Pieces, she is a fish at heart and loves anything to do with water. Travel always had a special place in Michelle's heart. Now her and her husband get to take along their young son. While at home, Michelle enjoys healthy cooking, reading, Vinyasa yoga, exercising, shopping, and dancing.
Michelle offers a free discovery session for first 10 people who reserve their spot:
Free Discovery Session on: Calendar a date.
How you can Make Money and it be Quality Family Time – Discover specifically what works best for their family.
Each person who does a session will also get a copy of my ebook for FREE.
"Quickly improve the quality of your family life and lifestyle"
a Step by Step guide to create your own family mission statement and clarify your values Delivered to you in a way that you can do with the whole family.
***If they request a session and I my calendar fills up. I will still send them a copy of my ebook.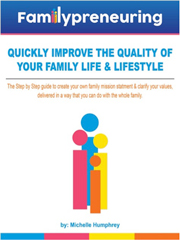 Tags: Familypreneuring expert, Familyprenuering, Michelle Humphrey, Quickly improve the quality of your family life and life style, sherry gideons, Whole Life Living, Whole Life Living Radio Network