Shajen Joy Aziz, M.Ed. and  I discuss her personal journey to discover her gifts, to unwrap the gift within her. She shares the life she always wanted was revealed once she relinquished fear and was willing to do the work by going inward to uncover the gift of who she was, by engaging in the work of reconditioning her mind.
Mother, Author, Educator, Speaker
Shajen Joy Aziz M.Ed. is Author and Co-Creator of the international bestselling book and film Discover the Gift, which has been released in 22 countries worldwide, as well as author of the up- coming book Ignite the Spark.  A powerful and compassionate voice in the transformational leadership community,  Shajen has shared the stage with other Transformational Leaders such as Jack Canfield, Michael Bernard Beckwith, Dr. Barbara De Angelis, Janet and Chris Attwood, David Avocado Wolfe, Niurka, and many more.
Shajen is an acclaimed speaker and educator with an extensive web presence and a devoted fan base.  Her work has been featured in The Huffington Post, CNN, Spirit and Destiny Magazine, Examiner.com, Spiritual Networks, Life Connection and Vision Magazine, among many others. She is a founding member of the Southern California Association of Transformational Leaders and the Women's Speakers Association and was nominated and awarded Woman of the Year for 2011/2012 from the National Association of Professional Women for dedication and excellence in her field. Her awards are numerous and the one she is most proud of, she received from Michael Bernard Beckwith and Dr. Barbara De Angelis for the Global Humanitarian Award in 2011.
Shajen holds a Master's Degree in Education from Norwich University and is currently completing her second Master's Degree in Psychology. She is most passionate about children and young adults, as they are our future, now. Shajen works with individuals, families, groups and companies to reach their full potential, and to enhance the quality of their lives and relationships.
Shajen's primary philosophy is about focusing on what's right about each and every one of us and on all levels, one person, one family, one community at a time.
She states: "Bullying and Harassment is a prevalent phenomenon in all sectors of our society. Together we can put an end to this way of being. We must come together for our children and support each other to focus on the good qualities within ourselves and those around us. We are the village – Our children are now". ~Shajen Joy Aziz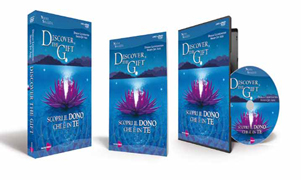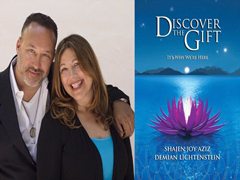 Watch Discover the Gift Movie Trailer Click Here
https://www.facebook.com/discoverthegift
www.facebook.com/shajenjoyaziz
Tags: bestselling book and film Discover the Gift, Discover the Gift, Discover the Gift Book, Discover the Gift Movie, M.Ed., Shajen Joy Aziz, sherry gideons, Speaker: Sherry Gideons